Creating A Self Illuminated Object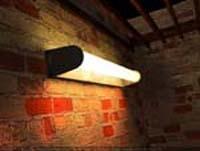 I want to share my simple workflow on how to create an illuminated object like flourescent lamp using vray material wrapper.
First, create a your model, a flourescent tube on a holder.
1. Click on one material slot, changes the diffuse color to a color you want for your flourescent lamp.
2. Tick the small box for the self illumination color then drag the color you created to the self illumination color.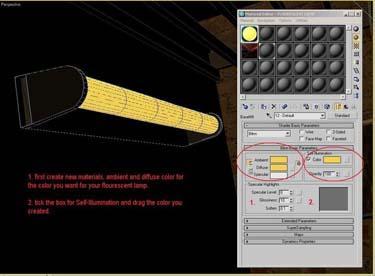 3. Still in same material, press standard to get another material
4. Then choose vraymatlwrapper from the list.
5. Tick the button, Keep old material as sub-material, then press ok.
6. Now on vraymatlwrapper parameter, adjust the amount generate GI =10.0 and recieve GI = 10.0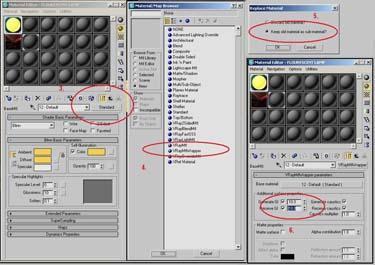 7. Create another material by pressing get material ( blue sphere button) and choose vrayHdri and adjust multiplier to 3.0. This will boost up the illumination of the flourescent lamp
8. Then make the first material active, then drag the second material slot box ( vrayhdri you created) to the diffuse slot.
9. Choose instance then ok.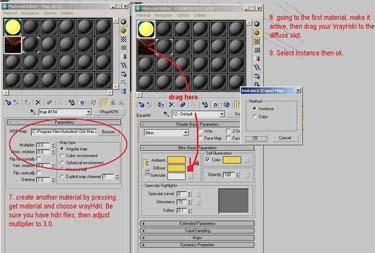 10. Then create one light ( omni) and make its intensity to .1, shadow on then choose vray shadow.
6. Set your renderer to vray and fire up render.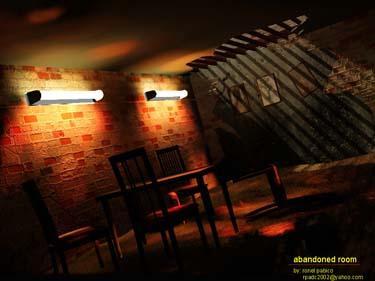 all rights reserved:
Self Illuminating Object Tutorials - Flourescent Lamp
arch ronel k. pabico
This email address is being protected from spambots. You need JavaScript enabled to view it..

There are no comments posted here yet